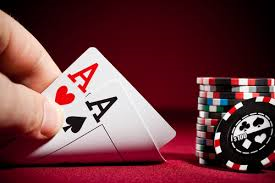 Poker er et av de mest populære kortspillene i verden. Det er et spill som har noen ulike versjoner, avhengig av hvor i verden man spiller det, men stort sett så vil poker spilles på samme måte. Det er noen tegn i poker som alltid går igjen, og det er så klart de fire tegnene som finner i en kortstokk. Totalt i en kortstokk så har man hjerter, ruter, spar og kløver. Det er ulike kombinasjoner med disse kortene og tegnene som utgir ulike vinnerunder når man spiller poker. En vinnende kombinasjon av kort i poker blir kalt en hånd.
Vinnende kombinasjoner
Det er en mengde ulike vinnende kombinasjoner, men noen er bedre enn andre. Den beste kombinasjonen man har heter royal flush. Det er når man har de fem høyeste kortene fra en kortstokk på hånden. Den nest beste kombinasjonen man kan ha heter da straight flush. Den går fra fem og opp til ni, hvor kortene må være av samme tegn. Videre så har man kombinasjonen på fire like kort. I denne kombinasjonen så ser man på tegnet på kortet, samtidig som tallet. For å få denne kombinasjonen så må man ha likt tall, med alle fire tegnene i en kortstokk.
De laveste kombinasjonene man kan ha er et par eller to par. Det vil si at man har to like kort i en hånd eller at man har to kombinasjoner på to like kort i en hånd. Disse to kombinasjonene blir da så klart slått ut i en runde hvor noen har royal flush eller straight flush i stedet. Hvis det skulle skje at det er to spillere som har samme vinnende kombinasjon, så vil den med høyest kort vinne. Hvis man har klart å ha de samme høye kortene også, så vil den med høyest tilfeldig kort vinne.
Tegn i spillet
Underveis når man spiller poker så kan man se at spillerne bruker ulike tegn. Dette har trolig oppstått av at det ikke er så mye prat rundt bordet når man spiller poker, og at det derfor har vært enklere å ty til tegn. Det krever mye konsentrasjon når man spiller poker og man finner ofte mange som bløffer rundt et bord. Dette kan da være enklere å få til hvis man ikke skal prate med de andre spillerne.
Et eksempel på et signal innen poker kan for eksempel være når en spiller ønsker å få tildelt et nytt kort. Istedenfor å da snakke med den som deler ut og be om et nytt kort så kan spilleren prikke i bordet med fingrene. Bløffing er også et signal og tegn på at man spiller poker. Bløffing vil si at spilleren later som om den har en god hånd med kort, men ikke nødvendigvis har det. Dette kan lure de andre spillerne til å tro at de sitter med dårligere kort og de ende opp med å kaste inn kortene. En spiller som er god på å bløffe kan ende opp med å vinne en runde, uten å ha gode kort på hånden.