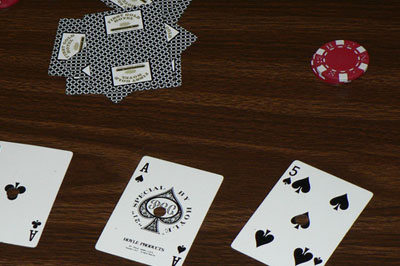 Online poker er et av de mest populære spillene på nettet. Poker spilles i mange varianter, men den mest spilte er Texas Hold'em. Nettkasinoer gjør at alle kan spille poker, selv i land der det ikke finnes landbaserte kasinoer. En annen fordel med nettet, er at det finnes mange ulike pokerbord. I et landbasert kasino sitter ofte alle spillerne rundt ett bord, og innsatsene kan være veldig høye. På nettet kan man spille på mange nivå, fra nybegynner til profesjonell. Innsatsene som det spilles om varierer også fra småpenger til store beløp. Ofte er innsatsene på nettet begrenset til et maksimumsbeløp, slik at flest mulig skal ha råd til å spille.
Når man spiller poker, spiller man ikke mot kasinoet. Huset (kasinoet) kan tjene penger på rake, eller avgifter man må betale for å spille, men poker er generelt ikke lønnsomt for et landbasert kasino. De tjener mye mer på spilleautomater, rulett og bordspill. Nettkasinoer har færre utgifter til driften av kasinoet, og har råd til å tilby mange flere pokerspill og pokerbord. Nettkasinoene er generelt også mer brukervennlige, noe som er spesielt viktig for nybegynnere.
Varianter av poker
Poker finnes i svært mange varianter. I noen varianter av spillet har hver spiller fem skjulte kort, mens i andre varianter har de bare to skjulte kort og flere felleskort på bordet. Texas Hold'em er en variant der det legges ut fem felleskort på bordet. De to kortene spillerne har på hånden kombineres med tre kort på bordet, for å lage den beste pokerhånden. Flere spillere kan selvsagt bruke de samme felleskortene for å lage pokerhender.
Uansett hvilken type poker man vil spille, må man kunne reglene. Man må vite hvilke regler som gjelder for den spesielle varianten, slik at man ikke blander variantene sammen. Det finnes mange gode nettsider som forklarer alt om de ulike variantene av poker.
Texas Hold'em spilles også i mange varianter. Disse variantene følger de samme spillreglene, men reglene for innsatsene er ulike. I Limit Texas Hold'em er det en grense for budene som kan legges i potten. I No Limit Texas Hold'em kan spillerne by så mye de vil, så sant de har sjetonger til det. I Pot Limit Texas Hold'em kan ikke spillerne by mer enn verdien av potten. I Mixed Texas Hold'em spilles annenhver runde som Limit og No Limit.
Turneringer og onlineturneringer
Texas Hold'em er også en vanlig pokervariant i turneringer. I mange turneringer spilles det flere typer poker, men ved det siste bordet, finalebordet, spilles det nesten alltid Texas Hold'em. Mange av disse finalebordene vises på TV, noe som bidrar til at spillet har blitt enda mer populært.
Noen av spillerne som deltar i store turneringer har begynt å spille på nettet. Det er litt annerledes å spille i et landbasert kasino enn på nettet, særlig fordi man på nettet sitter hjemme, mens man i landbaserte kasinoer sitter ved samme bord som motspillerne.
Hvis man ønsker å delta i pokerturneringer, kan man starte med turneringer på nettet. I noen av disse turneringene må man kjøpe seg plass, men man kan også vinne såkalte freerolls.