Spilleautomaten Shark School tar deg med under vann. Spillets tema er en skole for haier. Vi møter de store, tøffe elevene, de godslige elevene, og de små elevene. Læreren er en blekksprut. Andre symboler på hjulene er kortsymboler og et bilde av skolebygningen.
Automaten har 50 innsatslinjer fordelt på de fem hjulene. Grafikken er bra, men lydeffektene er litt lite nyskapende. Men spillet har tre gratisspinnspill, og det er verdt å prøve dem alle. Laveste innsats er 0,50 kreditter, høyeste innsats er 250 kreditter. Tre haier på rekke gir utbetaling, og de tre haiene trenger ikke engang å være like! Blekkspruten er wildsymbolet, og skolebygningen er sprederen.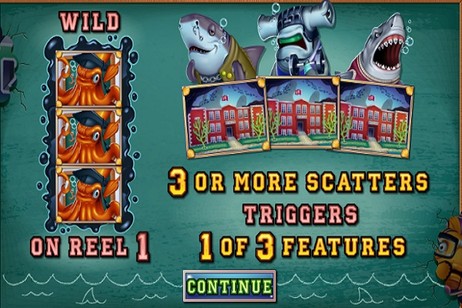 Når man får minst tre skolebygninger på skjermen, får man velge mellom tre ulike gratisspinnspill. Det ene spillet heter Swim fishy, swim. Her skal man hjelpe en liten fisk å flykte fra haien. Hvis man får en hai eller en fisk på hjul tre, vil fisken enten bevege seg mot haien eller vekk fra den. Dersom man kommer seg gjennom alle 25 gratisspinnene uten at fisken blir spist, vinner man 200 x innsatsen. Gratisspinnspill nummer to heter Bad Sharky. Her dukker det opp et wildhjul i midten som er dekket av haier. De vil fange enhver fisk som dukker opp, og ta fiskens plass. Dette øker vinnermulighetene dine. Det tredje gratisspinnspillet heter Don't eat the teacher. Her er alle gevinster doblet. Alle haiene som dukker opp på samme rad på det bakerste hjulet som læreren på det første hjulet, vil prøve å spise læreren. Dersom læreren overlever, får du økte fordoblere mens du spiller inntil 25 gratisspinn.